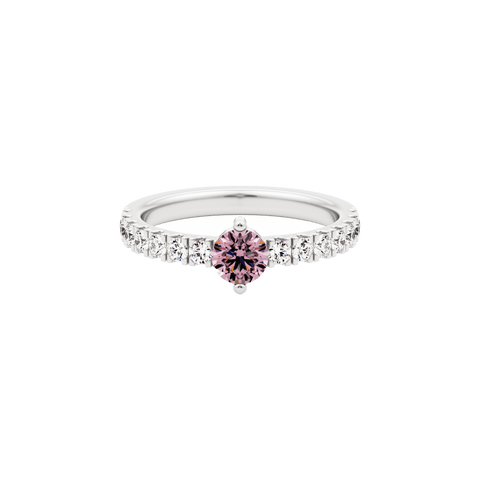 Fuji rosa ring
The Fuji rosa ring is inspired by the beautiful Japanese mountain, Mount Fuji. Its design is composed of a brilliant-cut central diamond set in a double wire claw setting that allows the stone to give off a high brilliance. Accompanied by two bands of staple-set side diamonds, it is a very original and timeless ring ideal for any occasion.
Ships on or before:
Why isn't my order shipped immediately upon payment?
With a socially conscious vision and an unwavering commitment to sustainability, we encourage our community of creatives and designers not to overproduce and operate on a made-to-order basis. In light of that, we hope you'd be patient with your order and allow extra time for our creators to craft the jewelry that will stand the test of time.
Estimated time in transit: 7 days
Pickup currently unavailable
About the designer
Mimoke handcrafts sustainable and timeless high-end jewelry pieces with lab-grown diamonds and recycled gold. For modern women who want to contribute a positive impact on the world, without compromising style or quality.
Specifications
Metal: 18k recycled white/yellow/rose gold
Style: Solitaire Rings
Setting: Double wire claw
Leading gemstone: Pink brilliant-cut lab-grown diamond
Certificate: GIA or IGI certified center diamond starting at 0.40 CT Mimoke certificate of authenticity and guarantee
Cut: Excellent
Clarity: VS1 / VS2
Color: E
Handcrafted in Spain
P100460501
the future rocks warranty

What is The Future Rocks warranty?
Jewelry purchased from The Future Rocks starting from 16th June, 2023 is warranted against any manufacturing defect for a period of 2 years from the date of purchase. For detailed information and warranty conditions, please view terms and conditions here.
What should I do in the event that my 2-year warranty expires
Upon expiration of the Warranty Period, any services or repairs will be subject to a service charge.
Under what condition can I repair my purchase from The Future Rocks?
If a jewelry piece is returned during the Warranty Period, any defect resulting from a manufacturing defect will be repaired (if feasible) or replaced free of component (excluding diamonds) and labor charges at TFR's sole discretion.

The Warranty only covers manufacturing defects, but not defects and damages resulting from misuse or negligence, or from accident.
How do I process my warranty claim? 
You must send a warranty claim to contact@thefuturerocks.com, including proof of purchase or order number, and photos of the broken piece. Do note you are responsible for the shipping cost of returning the jewelry piece to us. Shipment should be sent with a trackable shipping method and carrier. We also advise you to insure the shipment to prevent any unfortunate event during shipment.