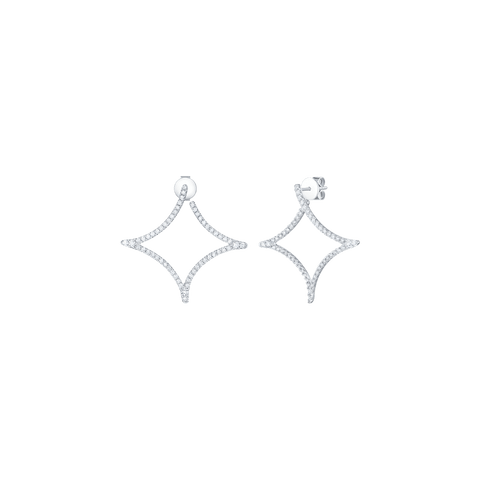 Sparkle earrings III
Designed as a part of the "Sparkle" collection, the lab-grown diamonds are set in diamond-shaped 14K white gold settings. Wear these earrings with pride knowing that the label gives back a portion of its profits to charitable causes that support our planet.

Ships on or before:
Why isn't my order shipped immediately upon payment?
With a socially conscious vision and an unwavering commitment to sustainability, we encourage our community of creatives and designers not to overproduce and operate on a made-to-order basis. In light of that, we hope you'd be patient with your order and allow extra time for our creators to craft the jewelry that will stand the test of time.
Estimated time in transit: 7 days
Pickup currently unavailable
About the designer
Specifications
Metal: 14k white gold
Setting: Micro Pave
Length: 30.00mm
Width: 8.00mm
Leading gemstone: White round lab-grown diamond
Gemstone quantity: 112
Total carat weight: 0.8848ct
Clarity: VS1+
Color: F-G
P1003406000408
the future rocks warranty

What is The Future Rocks warranty?
Jewelry purchased from The Future Rocks starting from 16th June, 2023 is warranted against any manufacturing defect for a period of 2 years from the date of purchase. For detailed information and warranty conditions, please view terms and conditions here.
What should I do in the event that my 2-year warranty expires
Upon expiration of the Warranty Period, any services or repairs will be subject to a service charge.
Under what condition can I repair my purchase from The Future Rocks?
If a jewelry piece is returned during the Warranty Period, any defect resulting from a manufacturing defect will be repaired (if feasible) or replaced free of component (excluding diamonds) and labor charges at TFR's sole discretion.

The Warranty only covers manufacturing defects, but not defects and damages resulting from misuse or negligence, or from accident.
How do I process my warranty claim? 
You must send a warranty claim to contact@thefuturerocks.com, including proof of purchase or order number, and photos of the broken piece. Do note you are responsible for the shipping cost of returning the jewelry piece to us. Shipment should be sent with a trackable shipping method and carrier. We also advise you to insure the shipment to prevent any unfortunate event during shipment.